At the beginning of May, during a long weekend, my cousin and I visited Ninh Binh, in the peaceful countryside, about 100 km from Hanoi.
As it is not far from the capital, there are several ways to get there : motorcycle, electric bike, bus, car and train. We rented a car because public transport was full during this festive holiday weekend.
After an hour and a half drive, we arrived at Ninh Binh Bamboo Farmstay, an authentic lodge, located in a quiet area, with cute little bamboo rooms in a green garden. Our host was very welcoming as we settled in.
After a good meal of delicious egg noodles cooked by our host, we took a scooter to Trang An where we embarked on a 3 hour rowboat excursion through beautiful landscapes of karst mountains and rice fields.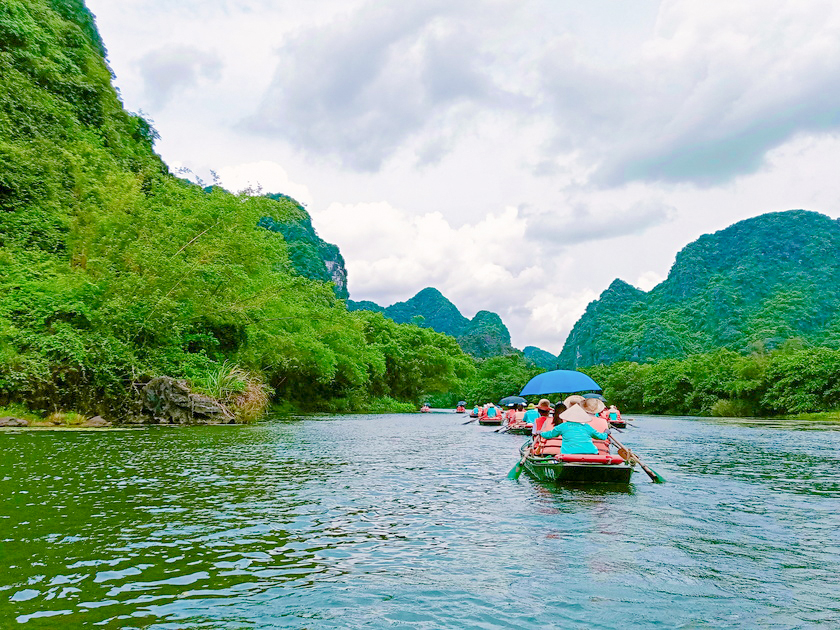 We glided through long, dark and mysterious caves filled with stalactites and stopped at some beautiful temples to explore them on foot.
In the afternoon, we continued to Hang Mua (the Dance cave) and climbed the 500 steps to the top for the spectacular panoramic views of Trang An. The views of the river flowing between the mountains at sunset were so amazing and so worth the climb.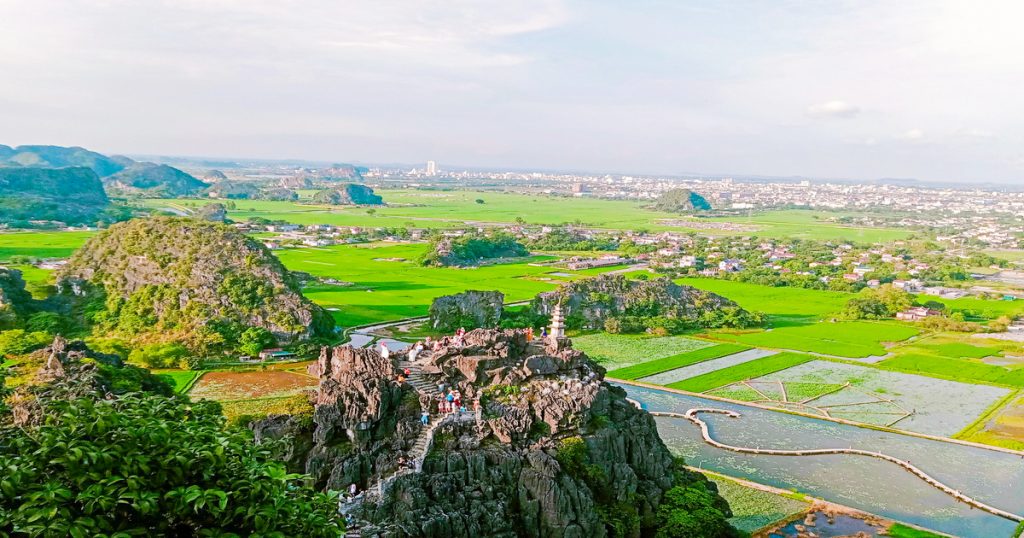 The next day, we visited Bai Dinh, the largest Buddhist temple complex in Vietnam. You could spend the whole day there exploring the different temples and pagodas. The tour starts in corridors that house about 500 statues of Arhat in different poses.
Other must-sees are the large copper bell, the giant statue of Sakyamuni, the three copper Buddhas representing the past, the present and the future. To finish, we went up to the top of the huge tower, to enjoy a breathtaking view of the site.
Our stay in Ninh Binh was incredible and easily one of my favorites. A must-see place during your trip to Vietnam !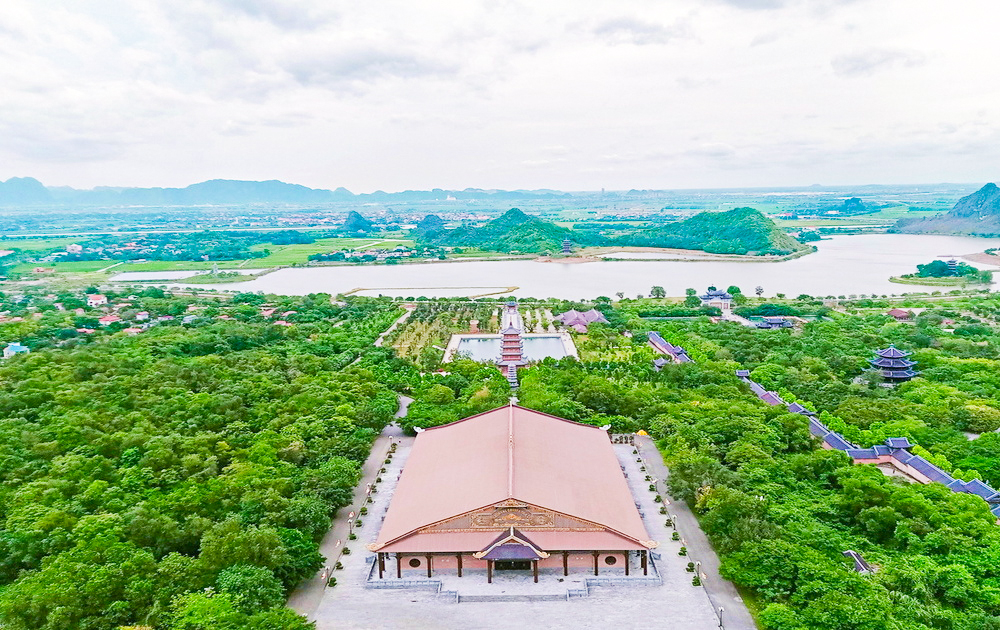 ---
General information and advice :
Geographical location
Ninh Binh, nicknamed the Halong Bay on land is a province in the north of Vietnam located 100 km from Hanoi. Although this nickname is evocative, it is interesting to visit this city because it happens to be very different from Halong Bay in its landscapes and atmosphere.
Accessibility
Ninh Binh is a city accessible by train or bus. A train from Hanoi leaves 6 times a day to this beautiful city. As for the bus, it will take you 1h30 to drive from Hanoi to Ninh Binh. There are buses every day and every 30 minutes.
Climate
I advise you to go to Ninh Binh from March to May and from September to November, the temperature will be ideal. To see the most beautiful landscapes, go in October during the harvest season.
Must-sees in Ninh Binh area
Climb to the top of Hang Mua Cave, and enjoy a breathtaking panoramic view of Ninh Binh. Take the challenge and climb the 500 steps to the top for spectacular views that make it all worth it.
Visit Bai Dinh Temple, a large 700-hectare Buddhist complex whose ancient temple is hidden in a cave.
Enjoy a ride on a sampan, a traditional boat, in the Van Long Nature Reserve. Keep your eyes open for Malayan monitor lizards, small spoonbills and Delacour's langurs, a critically endangered species of primate.
Cycle in the countryside of Ninh Binh, between Tam Coc and Trang An and visit the typical small villages of the region.
Discover Hoa Lu, former royal capital of Vietnam in the 10th and 11th centuries. Visit the temples dedicated to the Kings Dinh and Le, both built in carved wood and stone by artisans of the 12th century.
Stroll to the Thai Vi temple, and enjoy this peaceful place to admire the landscapes that surround you: limestone mountains, swamps, lakes and rice fields.
Do you want to visit this beautiful region? Get in touch with our experts at Mai Globe Travels !