Long time no see
Our trip to Vietnam was a sentimental journey. My husband and I decided to revisit Vietnam 40 years after we left Saigon with our oldest daughter, who was 4 years old at that time. We wanted to visit the places that were of special importance to us and to show our daughter the places where we lived. We followed our friends' recommendation to go with Mai Globe Travels. They specialize on trips to Asia and we were happy with them. They paid particular attention to details so we could focus on having a good time.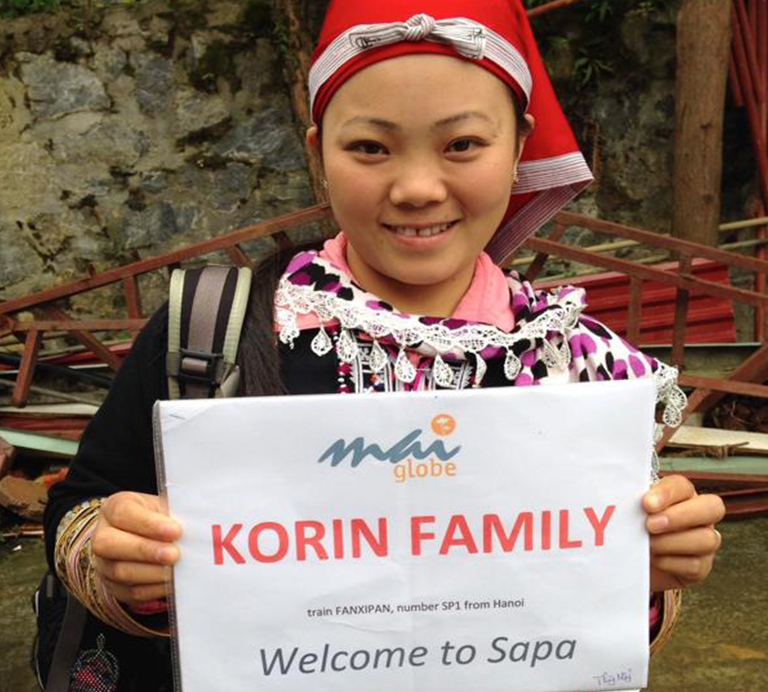 Welcome back in Vietnam !
A driver met us at Tan Son Nhut airport and took us to our hotel. Mai Globe Travels didn't disappoint when we told them we didn't want to stay at international hotel chains. We wanted a feel for the Vietnamese life while in Vietnam. Our hotel was in a middle class residential/commercial area. The hotel was spotless, service was excellent, the breakfast was generous. We always had a fruit basket that was replenished everyday. It appears that many travellers are like us because there was a lot of action going on in the area.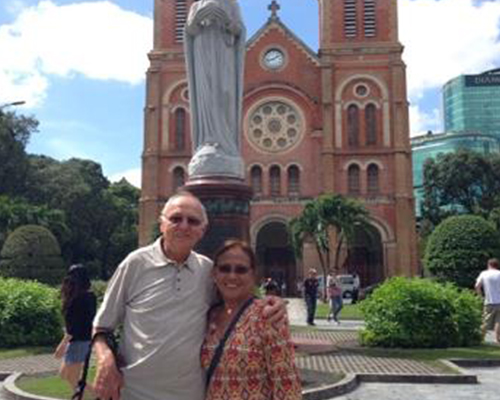 Our driver picked us promptly at the appointed time and took us where we wanted to go. Although street names have changed since we were there 40 years ago, we were able to find two of the apartments we have lived in. One was quite run down. The other, which was at the formerly famous Tu Do Street, now called Dong Khoi, was scheduled for demolition to make room for a high-end shopping center. We also found the chapel where we were married and to my relief, time stood still there. It looked exactly like it did when we were married and it felt very nostalgic. We also went to the Cu Chi Tunnels, which is an immense network of connecting underground tunnels that the Viet Cong used during the war.
From Ho Chi Minh to Danang
Going against the recommendation of Mai Globe Travels, we took a local overnight train from Ho Chi Minh City to Danang. Even though we were in a private compartment, local train travel is something we wouldn't do again. We were promptly met at the train station by another personal driver. He took us to all the places we wanted to visit– China Beach, Marble Mountain, Tam Ky, and Hoi An. We didn't find our former house in Danang nor our favorite French restaurant by the river. Luckily, our driver brought us to a cute Vietnamese restaurant that was filled with Vietnamese antiques!
Next stop, Hue !
From Danang, we took a short train ride to Hue. Once again, our hotel was in the middle of a residential area. It was spotless, the staff was very courteous and friendly, and the included breakfast was sumptuous. There is so much history in Hue. The imperial palace is big and impressive but my favorite was the tombs of the emperors. There is a good French restaurant in a residential area near the Imperial Palace called Le Jardin de Carambole. We went there twice!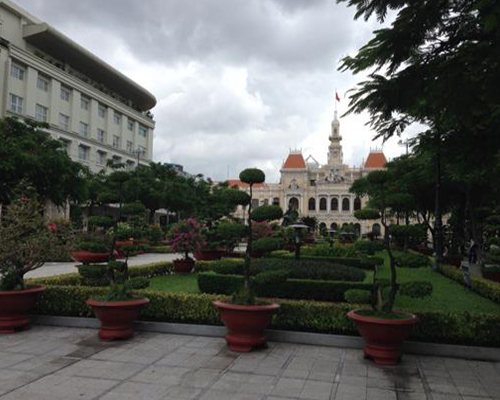 The capital, Hanoi
For the Danang to Hanoi portion of our trip, we followed the travel agent's advice and took the tourist train. What a difference! When we go back to Vietnam, that's the only way we will take a train.
Our hotel was in the old quarter of Hanoi. It was bustling with activity but our hotel was very calm, clean. Staffers were very courteous and friendly and breakfast was sumptuous. The chef even showed us how to carve carrots into different shapes!
Last stop in Sapa
We went to Sapa from Hanoi. Once again, we took the tourist overnight train which made for a very pleasant trip. A tour guide and a driver took us to the different places of interest in the area. One of which is a part of China that we can see from Vietnam. The two countries are only separated by a narrow river and connected by a small busy bridge. For us, the highlight was the Sunday market in Bac Ha. Especially the local tribesmen in their native costumes that came from the outlying villages to sell their wares and to go shopping. It was very colorful and exotic.
Our Vietnam tour was very memorable, enjoyable and it brought back a lot of beautiful memories. We're so glad we did it.
Written by Mike & Patty | United States