The driver-guide plays a very important role during your trip to Sri Lanka. It does not only help you to create unforgettable travel experiences but also teach you a little more about the country. This will give you the opportunity to understand more about Sri Lanka's culture and its people; interact with the locals, read information boards and menus, or explain customs particularities.
We asked our driver-guide Chamindu to tell us a bit more about his job.
Why do you like this job?
The kindness, one pays attention to the other and vice versa, it is very rewarding. This is exactly why I absolutely love my job, but what I enjoy the most is the variety of the job, no routine.
It also goes hand in hand with my personality; I am very flexible and proactive with the ability to interact with people from different backgrounds. It is a tailored job, besides explaining historical facts; I love learning a little more about my country every day. To sum up, I love my job!
Are you more than just a driver?
Yes, of course, customers have different personalities, expectations, and needs. I constantly try to adjust myself and always satisfy the customer. I never forget to share some personal anecdotes with them, nothing more annoying than listening to a list of dates and names … We often have a great time together and we keep in touch after the trip.
My wish is to create a unique experience so the tourists leave with beautiful memories of Sri Lanka. Such as discovering local fruits and food which one finds on the road for instance. Providing the best trip experience is my everyday challenge. I explain to them the culture, the wildlife, the historic places, off the beaten track…
A day always starts with a smile and then all day long with me.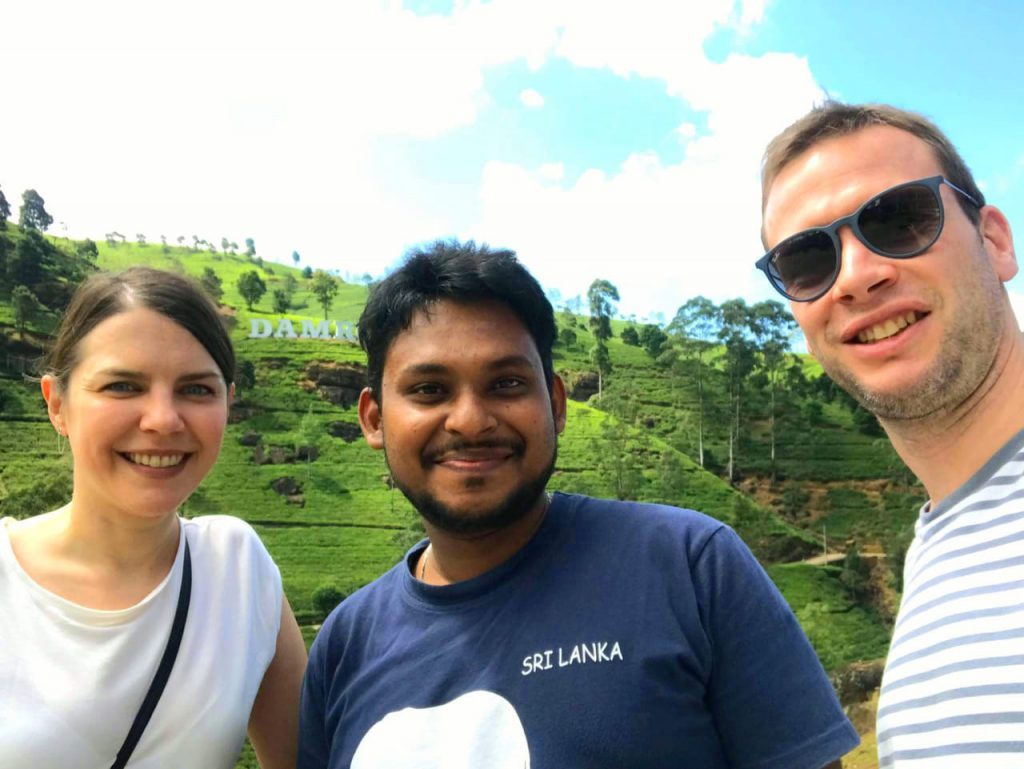 An anecdote to share with us?
Yes, it was a few years ago with a German couple at the archaeological site of Polonnaruwa.
In the morning, in the car, I explained the historical background of the site to them. I also informed them of the big monkey population: how to behave with them, with food…
The couple laughed and we made jokes on the subject. When they entered the site, the man opened his bag with snacks and fruits for lunch … Suddenly, he shouted "someone has taken my lunch from …" although it wasn't someone…it was a monkey watching us with lunch!
The client replied: "give me the food back, rude monkey" while his wife tried to explain to him that this monkey is not supposed to speak or understand German! We laughed a lot at this moment.
And you, do you have any anecdotes with your driver-guide?
Do not hesitate to contact our experts for tailor-made Sri Lanka tours